Turkey, with its wide meadows and grazing lands, great stock-breeding potential, uniquely rich product range and a climate structure that encompasses four seasons takes firm steps forward to be amongst the world's leading agriculture and stock-breeding countries. Today milk has the highest production value among other animal based products in Turkey.
Crucial dairy facts are shown in the table below:
| | |
| --- | --- |
| Key Fact | Unit |
| National Dairy Herd | 6,5 million cows |
| National Cow Milk Production | ~ 23 billion litres |
| Number of Dairy Farm | 1,1 million |
As there is a huge number dairy farm in Turkey, majority of them have less than 10 cows. Many of Turkey's dairy herds are small-family owned but again the number of larger farms has been increasing. Contrary to the upward trend in milk production, the number of dairy farms is declining. There has been a shift in the number of dairy farms from small-scaled farms to larger and more efficient farms for the past decade. This was the result of growing milk yield per cow.
Milk Production Growth (Million Ton) (All species)
Turkey is a large milk producer, with production of 22,9 billion litres in 2019. Due to its high level of production and government policies, the amount of milk production in Tukey ranked 3rd in the EU and 8th in the world.  
Total milk production in Turkey has shown a significant development for the past years. Total milk production volume from all species has almost doubled for the past decade. Milk production is concentrated in the Aegean, west side of the country, and Central Anatolia region, although there are dairy operations in other areas. Information provided by TURKSTAT shows that around 12 per cent of cow's milk production occurs in two provinces, Konya and Izmir.  
Liquid Milk Production (x 1.000 Tons)
According to the official statistics, fresh milk production in Turkey has increased by 16% for the past five years. Apart from raising consumer awareness, income growth and changes in dietary habits, The School Milk Project that was implemented for seven years led to increase milk consumption resulting in a surge in drinking milk production.
Cheese, Yogurt and Butter Production (x 1.000 Tons)
Cheese is a special and unique dairy product for Turkish people, especially for breakfast. Turkey produces an array of different cheeses. According to the research more than 200 types of cheese are produced in Turkey.
Among all of the dairy products produced in Turkey, yogurt has the second largest production quantity followed by liquid milk. As being a traditional dairy products ayran and yogurt is consumed in almost all parts of Turkey.
Growth in the value of Turkish dairy product export more than doubled from 2009 to 2020, from more than 167 million US $ in 2010 to 371 million US $ in 2020 and Turkey became one of the largest dairy product supplier in its region. This export status is mainly the result of the success of the industry previously focused primarily on domestic market rather than international demand. Moreover, trading partners of Turkey became more market-oriented and more of a global dairy-market player, allowing trade that responds more to market forces. In 2015, as global conditions changed and in 2020, as a result of COVID-19 outbreak, the value of dairy export fell by 18% and 9% respectively. Apart from these years, Turkey has been consistently increased its dairy export value for past decade.
Turkey's main exporting dairy products are cheese, whey products and milk powder while butter and cheese are the most importing products. In this respect, Turkey's self-sufficiency rate is estimated just above 100%.  
Product Share of Dairy Trade - 2019
The major dairy products that the Turkish dairy companies export are cheese, milk powder, and whey products. A large proportion of exports are in the form of value-added products such as cheese. A wide variety of natural and processed cheeses are traded internationally by Turkey. In terms of value, cheese is the top export product for Turkey with a share of 50%; this is followed by whey products, milk powder, and ice cream. Turkish cheese exports are worth over 185 million US Dollar.
Product Code
Short Product Label

2020

Quantity (Ton)
Value (x1.000 $)
040610
Fresh Cheese
15.422
48.487
040630
Processed Cheese
18.683
55.236
040690
Other Types of Cheese
13.817
58.202
040620
Grated or Powdered Cheese
5.398
23.247
Turkey exports nearly one-tenth of the cheese that it produces. This makes Turkey one of the leading cheese exporting country within its region, accounting for 2% of global cheese export market.  
Iraq, Saudi Arabia and United Arab Emirates have consistently been the leading export destinations for Turkey. While Turkey exports dairy products to more than 100 countries including US, European countries, Russia, Turkic Republics, only these three countries accounted for about 60 percent of the total value of cheese export in 2020.
Turkey's exports of SMP increased by nearly 3,2 times from 2013 to 2020, with the greatest export shares in 2020 going to Bangladesh and Iraq.
Highlights of Turkish Dairy Industry
TURKISH DAIRY INDUSTRY

X 1.000 ton

2018

2019

2020

Raw Material

Number of Dairy Animals ('000 head)

Cow

6.338

6.580

Sheep

18.819

19.837

Goat

5.327

5.471

Buffalo

Cow's Milk Production (x 1.000 ton)

20.036

20.782

Sheep Milk Production (x 1.000 ton)

1.446

1.521

Goat Milk Production (x 1.000 ton)

561

577

Buffalo Milk Production (x 1.000 ton)

76

79

Dairy Production

Liquid Milk  

1.660

1.540

1.613

Cheese

756

707

766

WPC (whole milk powder)

46

32

34

SMP (skimmed milk powder)

63

66

69

Yogurt

1.198

1.136

1.113

Ayran

731

698

587

Export

Total Dairy Export Quantity

205,0

242,5

193,0

Major Markets

Iraq

Saudi Arabia Libya

Iraq

Saudi Arabia

UAE

Iraq

Saudi Arabia

UAE

Cheese (HS 0406)

55,1

55,0

53,3

Milk Powder (HS 040210 + 040221)

28,0

42,2

21,2

Whey Products (HS 040410 + 040490)

43,1

57,3

66,5

Import

Total Dairy Import Quantity

30,4

51,9

28,3

Butter (HS 040510)

13,8

35,7

10,9

Cheese  (HS 0406)

10,3

10,5

9,4
At-a-Glance Guide to Turkey
With a deep history and culture of the Republic of Turkey partly in Asia, it has a unique geography with land extending partially in Europe.
Throughout its history, it has served as both a wall and a bridge between two continents. Due to this geographical location, Anatolian lands witnessed the migration of various people who shaped the course of history. Home to countless civilizations, Anatolia has created a unique cultural synthesis, each with its own identity but at the same time tied to its ancestors through insoluble ties. a modern state on a successor to the ancient lands of Turkey and the common heritage of humanity that is protective.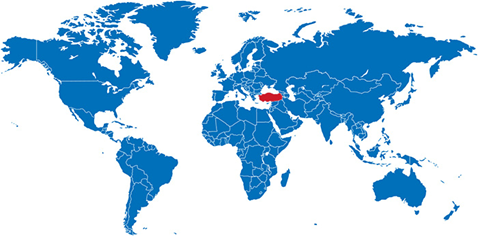 Turkey, officially the Republic of Turkey, in Anatolia, a large majority of the other part of the West Asia and Southeast transkontinental is a country located in Eastern Thrace in Europe. In addition to being a unitary parliamentary republic, with a diverse cultural heritage of Turkey is a democratic, secular, constitutional monarchy is a country. Although most crowded and popular city of Istanbul in Turkey, in Ankara, the capital is contrary to the known.
| | |
| --- | --- |
| Official Name of the Country | Republic of Turkey |
| The capital | Ankara |
| Administration | Presidential Government System |
| Population | 83.6 million (2020) |
| Labour Force (Population) | 32.5 million (2019) |
| The average age | 32.4 (2019) |
| Official language | Turkish |
| President | Recep Tayyip Erdoğan |
| Area | 783,562.38 km² |
| Coordinates | 39° 55′N latitude, 32° 50′E longitude |
| Time Zone | GMT +3 |
| Neighbouring Countries | Bulgaria, Greece, Syria, Iraq, Iran, Azerbaijan, Armenia, Georgia |
| Major Cities (Population) | İstanbul (15.5 million), Ankara (5.6 million), İzmir (4.3 million), Bursa (3,0 million), Antalya (2.5 million) (2019) |
| Climate | Temperature; hot, dry summers, rainy winters |
| Phone code | +90 |
| Country Code Top Level Domain | .tr |
| Electric Voltage | 220 V, 50 Hz |
| Currency unit | Turkish Lira (TRY) (TL) |
| Financial Centre | İstanbul |
| Gross Domestic Product | 4,3 trillion TRY  (2019-Current Prices) |
| Gross Domestic Product Per Capita | 9,213 US Dollar (2019) |
| Export Value | 180,8 billion US Dollar (2019) |
| Import Value | 210,3 billion US Dollar (2019) |
| Tourism Income | 34.5 billion US Dollar (2019) |
| Tourist Number | 51.8 million (2019) |
| Foreign Direct Investment | 10.9 billion US Dollar (2017) |
| Number of Companies with Foreign Capital | 74,227 (2019) |
Home to the headwaters of the Tigris and Euphrates Rivers, Turkey's agricultural sector today is echoing the prosperity of ancient Mesopotamia. With its favourable geographical conditions and climate, large arable lands, and abundant water supplies, Turkey is considered to be one of the leading countries in the world in the field of agriculture and food.
Turkey has a robust agriculture and food industry that employed almost 20 percent of the country's working population and that accounted for 5.8 percent of the country's GDP in 2018. The sector's financial contribution to the overall GDP was USD 42.5 billion in 2018.
The strengths of the industry include the size of the market in relation to the country's young population, a dynamic private sector economy, substantial tourism income, and a favourable climate.
Turkey is the world's 7th largest agricultural producer overall and is the world leader in the production of dried figs, hazelnuts, sultanas/raisins, and dried apricots. The country is also one of the leading honey producers in the world. Turkey boasted production of 22.9 million tons of milk in 2019, making it the leading milk and dairy producer in its region. The country also saw production totals of 34.4 million tons of cereal crops, 30 million tons of vegetables, 22.2 million tons of fruit, 2.1 million tons of poultry, and 1.1 million tons of red meat. In addition, Turkey has an estimated total of 11,000 plant species, whereas the total number of species in Europe is 11,500.
This bountiful production allows Turkey to maintain a significantly positive trade balance thanks to its position as one of the largest exporters of agricultural products in the Eastern Europe, Middle East, and North Africa (EMENA) region. Globally, Turkey exported about 1,800 kinds of agricultural products to more than 190 countries in 2018, accounting for an export volume of USD 17.7 billion.
Turkey has significant investment opportunities in agribusiness subsectors such as fruit and vegetable processing, animal feed, livestock, poultry, dairy, functional food, fisheries, and enablers (in particular cold chain distribution, greenhouses, irrigation, and fertilizer).
Turkey is looking to position itself as the preferred option for being the regional headquarters and supply centre of top global players in the agricultural sector. To encourage investment in the sector, Turkey offers a set of incentives for potential agribusiness investors. ​